Meet the 2022 Committee for Scientific Training and Mentoring Co-Chairs
The Committee for Scientific Training and Mentoring (CSTM) at the Danforth Center is an internal group of scientists aimed at creating career training and development opportunities and fostering a sense of community through scientific discussions and social functions. 
During the pandemic, CSTM has been an anchor for many scientists. Thiya Mukherjee, PhD, Research Scientist in the Allen Lab, experienced this first-hand. She came to the Center just as the pandemic struck and immediately began working from home. "During that time, CSTM professional programs played an integral role by providing a virtual platform for me to meet and learn about my colleagues at the Center," she explains. "I also made some very good friends through the CSTM network." For Kong Wong, PhD, Postdoctoral Associate in the Topp Lab, CSTM was one of the only outlets he had for socializing with people outside of his lab during the pandemic.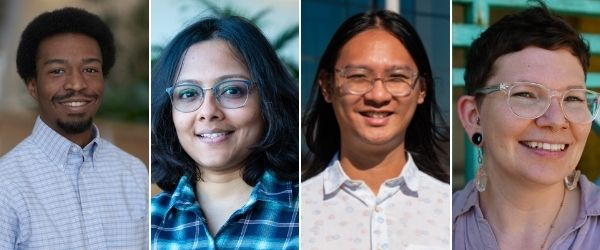 The 2022 CSTM co-chairs Kevin Cox, PhD, Postdoctoral Associate in the Meyers Lab, Thiya Mukherjee, Kong Wong, and Jasmine Zenderland, Lab Technician in the Meyers Lab, have made it a goal to continue building and strengthening connections across the community, especially while the pandemic continues to make socialization challenging. "My central goal for my time as co-chair is to create opportunities for well-needed socialization during these uncertain times and find innovative ways to stay connected," says Jasmine Zenderland. The co-chairs hope that these opportunities will spark internal collaboration or lead to career-long friendships. They also plan to start annual technical workshops. "I hope these workshops will allow trainees to learn a new wet lab or computational skill that they can ultimately apply to their projects or career development," explains Kevin Cox.
The 2022 CSTM co-chairs are excited to work together because of their unique past experiences. "We come from diverse backgrounds," says Kevin. "To give one of many examples, some of us are relatively new to the Center, some have been here for a few years. This means everyone is bringing something to the table from a different viewpoint and we can all learn something from each other that will help benefit our community!" 
The co-chairs are also united by their shared passion for CSTM. "My fellow co-chairs are just as enthusiastic and motivated as I am, and we have a lot of great ideas and ambitious goals to take CSTM to the next level. I'm excited for the new ideas we come up with and putting them to action," says Kong.
Each year, the Committee for Scientific Training and Mentoring hosts BioBash, an annual career networking and job fair event for young scientists. BioBash aims to educate and bring together the scientific community in St. Louis and discuss the broad range of career opportunities in life sciences. Scientists at all levels of their fields are invited to join. Read more about BioBash 2021. Stay tuned for information about BioBash 2022!