Danforth Center Research Field Site at Planthaven Farms
Pauline and John Cella remember the exact moment the idea occurred to them. They were a hosting a dinner on behalf of the Danforth Center. As three Center scientists presented on their food-related research and the cutting-edge infrastructure of their laboratories at the Danforth Center, Pauline had a thought: "As a horticulturist, I wondered if they ever conducted research in the field." 
"Afterward, one of the scientists talked to us about how challenging it was to do field work," said Pauline. "They had to drive long distances, stay overnight, be away from their families. That's when the lightbulb went off."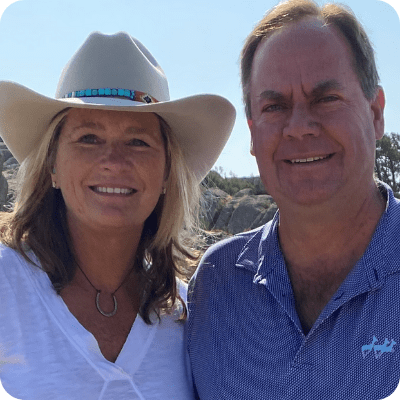 Pauline and John are the owners of Planthaven Farms, a grower-retailer headquartered in O'Fallon, MO. Planthaven is a home gardener's dream with 20 greenhouses and 100,000 square feet of plant displays open to the public. The property is also surrounded by 50 acres of rich Meramec River bottomland, good for farming. 
"We went in and met with [Danforth Center President] Jim Carrington," said John. "We said, 'What if we let you use some acres at our farm?' We thought we could help get those scientists out of the labs, away from their test tubes, and into the field." 
The plan for the 5-acre Danforth Center Field Site at Planthaven Farms was finalized in 2019, but a levee break along the Meramec prevented implementation until early 2020, just before the COVID-19 pandemic led to lockdowns across the country.
"After the flood, we waited another year only to have the pandemic strike," said Chris Topp, PhD, Danforth Center principal investigator and early adopter of the new field site. "The good thing about field work, though, is that it takes place outdoors and the work can easily be socially distanced."
Danforth Center teams have always undertaken field research in partnership with universities and nonprofits across North America and around the world, but they have never enjoyed a dedicated site so close to home, only 35 minutes from the Center—and the partners to make it a success.  
"As any farmer knows, it's a lot of work to grow plants outside, and we have responsibilities in the lab," said Topp. "My group has tried to do field work nearby before, but it didn't work out, largely because we didn't have a partner to help. John and Pauline have been incredibly enthusiastic about the work. And Farmer John was instrumental."
"Farmer John" is John Williams, an organic vegetable grower and friend of the Cella family, who previously grew produce for their restaurant, Truffles in Ladue. On the recommendation of John and Pauline, the Danforth Center hired "Farmer John" to manage the research field, and his help has proved important to success.
Danforth Center Principal Investigator Allison Miller, PhD, agreed: "John Williams serves as an on-farm technician, working tirelessly to prepare fields, set up irrigation systems, help with plantings, and control weeds. He has helped us succeed at the new site." 
There are many reasons why having a dedicated field site is a boon to research. Beyond the convenience and significant cost savings of proximity, Center scientists are also able to control the site as never before. When field access depends on collaboration, it can be difficult to establish priority—and setbacks can occur if collaborators switch institutions. Having convenient field access managed by the Danforth Center is crucial to long-term projects, and it is cost effective, so it allows more exploratory projects as well.  
The Danforth Center is a nonprofit research institute dedicated to plant science. We depend on the generosity of individuals and foundations to support the Center's mission to feed the world and heal the planet. To make a gift of support, click here.
Already in 2020, six Danforth Center labs have used the field site:
Bart Lab: growing cassava, cotton and sorghum for seed and experiments
Eveland Lab:  a maize "nursery" (where genetic crosses are made) and sorghum 
Gehan Lab: sorghum for seed and

Setaria

, a model plant, as part of ongoing experiments

Miller Lab: a grape vine root stock experiment and a trial of cover crop varieties
Mockler Lab: bioenergy sorghum, as part of the lab's pan-genome resource
Topp Lab:  a study of corn genetics that has validated three major genes that affect plant growth and root function
The Cellas have enabled us to accelerate our long-term plans to develop a nearby field research station. So much of our research is done in the field, so this resource being made available by generous supporters is a tremendous boost to our ability to deliver on our mission.

Jim Carrington, PhD President, Danforth Center
A version of this story originally appeared in the Leaflet, the free newsletter of the Donald Danforth Plant Science Center. Sign up to receive more stories like this straight to your inbox.