"To See Your Gift Really Make a Difference": Pauline & John Cella
The owners of Planthaven Farms didn't intend to become professional horticulturists. Says John: "I called Pauline one day and said 'You have a very successful banking career in St. Louis, do you want to give it all up and become a farmer?'"
Fast forward 20 years and today Planthaven Farms is a beloved locally grown garden-center operation with three retail locations, one of which is a summertime pop-up in Olivette, MO, just down the street from the Danforth Center.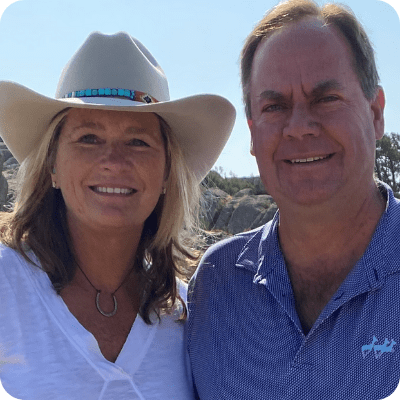 "We were fascinated by what was happening at the Danforth Center," says Pauline. The family quickly became engaged. John became an ambassador [an early version of the Danforth Leadership Council], they took a tour, and their son even became a member of the Young Friends.
Through the intervening years, the Cellas continued to support the Center with annual gifts and by hosting dinners and events at Planthaven, always with a goal to introduce the Danforth Center to more people.
"The Danforth Center is a shooting star in St. Louis," says John. "It brings so much to our town, think of the scientists that have been brought here with their families—their genius, their experiments! We wanted more people to know about it."
When the Cellas decided to grant use of their property for a field site, they were clear in their motivation: "Plant science can change everything," says Pauline. "The Danforth Center is bringing cutting-edge science universally to the world, to places that wouldn't normally have access. That is inspiring."
Now with a first season of scientific experiments underway, John adds: "To see your gift make a difference is a really rewarding thing." Read more about the research field site on our blog here.   
The Danforth Center is a nonprofit with a mission to improve the human condition through plant science. For more information, contact the Development Office via email or call 314.587.1234.
A version of this story originally appeared in the Leaflet, the free newsletter of the Donald Danforth Plant Science Center. Sign up to receive more stories like this straight to your inbox.