Meet the 2022 William H. Danforth Plant Science Fellow
Growing up in the metropolis of Fort Lauderdale, Florida, Kiona Elliot had little exposure to botany or agriculture. "Plants? Gardening? Nope. Nothing like that. I lived in the city, and nobody I knew was really interested." However, during her sophomore year in high school, she was invited to participate in an independent research course, and she found her calling: "I didn't really know what research was, but I fell in love with it."
Today, Kiona is a fifth-year PhD student in the Plant and Microbial Biosciences Program at Washington University in St. Louis. She is also the Danforth Center's 2022 William H. Danforth (WHD) Plant Science Fellow.
The WHD fellowship was endowed in honor of the Danforth Center's founding chair by Dr. P. Roy and Diana Vagelos. It supports outstanding PhD students whose research demonstrates great promise for advancing plant science. Kiona is the eighth student to receive this distinction.
Kiona works in the lab of Principal Investigator Rebecca Bart, PhD, whose research interests focus on understanding plant-microbe interactions. She deploys molecular, genetic, and computational approaches to reveal the forces that govern these interactions and uses the knowledge gained to develop novel strategies to improve the sustainability of agriculture. The Bart lab works on multiple important crop plants including sorghum, cotton, and cassava.
Cassava is a hardy crop that can withstand heat, drought, and poor soils. It is a staple food that provides the daily calories for more than 500 million people in Africa, i.e, 40% of the entire continent. Yet the crop is susceptible to devastating pathogens. Kiona's project focuses on investigating the genetic mechanisms underlying cassava susceptibility to Xanthomonas-induced bacterial blight.
"My passion is in food security," explains Kiona. "My goal is to take the research that I do and help provide enough food for the world's population. There are so many questions we can address, but they all lead back to producing abundant crops in sustainable ways."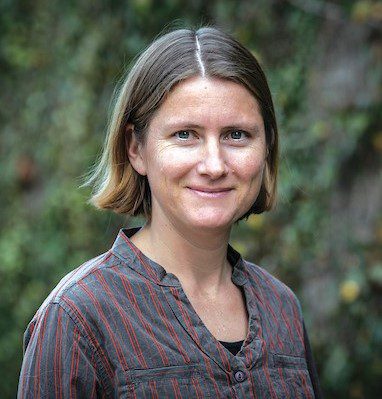 "Kiona is a talented scientist and an amazing person" said Becky Bart, PhD, Danforth Center principal investigator. "She sets a high bar among her peers in terms of her dedication to research, determination, and collaborative spirit." Read more about the work of the Bart lab at the Danforth Center here.
Kiona is a first-generation college student who credits her mom with helping launch her studies: "When I became interested in plant science in high school, my mom drove me every week to the University of Florida—Davie, 40 minutes from home. She'd wait in the car and do crossword puzzles while I was in the lab."
After a mentor recommended Washington University to her, Kiona visited St. Louis and while here, she toured the Danforth Center. "After seeing the resources available there, I thought it was the absolute best place for me to do my training."
Kiona is also a National Science Foundation Graduate Research Fellow, Gates Millennium Scholar, and Initiative to Maximize Student Development Scholar. She has served as co-chair on the Danforth Center Committee for Scientific Training and Mentoring.
Medical and other kinds of research receive significantly more federal and foundation funding than plant science, making the William H. Danforth Graduate Fellowship especially critical in its field. Thanks to Roy and Diana Vagelos, Kiona Elliot and others will have the opportunity to conduct their research with the guidance of outstanding principal investigators at the Danforth Center. For more information on how you can help, click here.
A version of this story originally appeared in the Leaflet, the free newsletter of the Donald Danforth Plant Science Center. Sign up to receive more stories like this straight to your inbox.