Guest Blog: Dr. Kevin Cox's Journey Through Plant Science
In celebration of Black Botanists Week 2022, the Danforth Center is featuring a guest blog from Dr. Kevin Cox, Postdoctoral Associate in Dr. Blake Meyers' Lab. Keep reading to learn more about Kevin's journey through plant science and why he is passionate about scientific outreach to Black students.
One would think that I grew up growing a lot of plants around my home. That maybe I had a fascination with plants in my childhood years which propelled me to a career in plant biology. I will be the first to tell you that this was not the case. My career goal since I was a child was to become a pediatrician as I saw that as the best occupation where I could help others. Honestly, I initially did not have any interest in plants or plant sciences. Nor did I think one could have a career in science unless you were a super genius that was invited by some "elite club". 
This all changed during my sophomore year of college while taking a Microbiology course. I became interested in microbes, especially with how much they can help and harm us, and the mechanisms they use to survive. This lone, one semester Microbiology course provided me a spark to want to work with microbes, and in the sciences, for the rest of my life.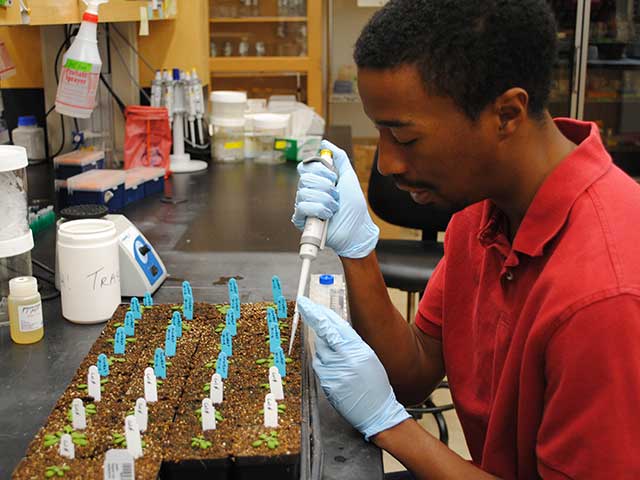 During my junior year of college, I decided to begin looking for internships or part-time positions in laboratories in order to get professional lab experience. Initially, I found no success in the summer and fall semester as I struggled to even receive an interview. In the spring, I found a job opening for a part-time undergraduate worker in a lab at the Donald Danforth Plant Science Center. As I said earlier, I had basically zero interest in plants; I also had practically zero exposure to plant biology in my coursework (from primary school through undergraduate). However, I decided to be open-minded and apply for the position, where I ultimately ended up receiving and accepting a job offer.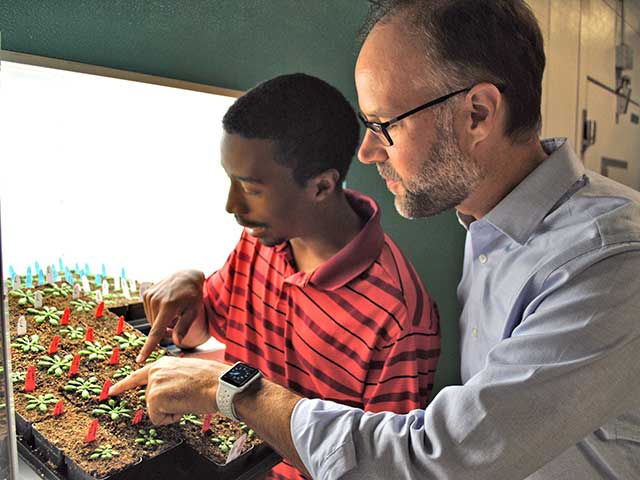 At the Danforth Center, I developed a love for plants. I was amazed by how much plants benefit our world. Additionally, I was exposed to all the cool science and biological questions being investigated from different labs at the Danforth Center. One of these research areas that interested me was the study of plant diseases (how plants succumb or defend themselves against pathogens). 
My undergraduate research experience inspired me to attend graduate school at Texas A&M University to pursue a PhD in Plant Pathology. I conducted research in Dr. Libo Shan's lab to uncover the molecular mechanisms of a disease on cotton called Bacterial Blight. After receiving my PhD, I returned to the Danforth Center for a postdoc tenure in Dr. Blake Meyers' lab where I use spatial and single-cell biology to investigate how plant cells use gene expression to "talk" to their neighboring cells.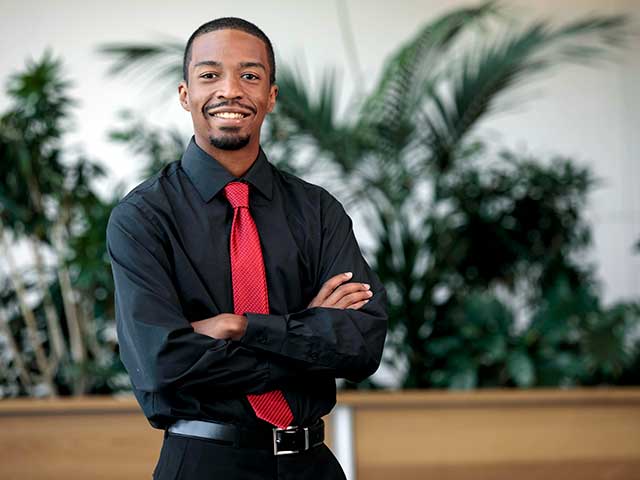 Inspiring and Helping the Next Generation
My career goal is to become a faculty member at a university or research institution and having a lab that continues to study how plant cells communicate with each other in order to defend themselves against pathogens. Importantly, I plan to use my position to inspire and mentor the next generation of scientists and help them succeed in the sciences, particularly Black trainees. 
My experience as Black scientist has seen several cases of isolation and microaggressions. During my undergraduate, I would tend to be the only Black American in my Biology courses. This was also the case in graduate school, as I was the only Black American scientific staff (from grad students to faculty) in my department for most of my tenure. Not identifying anyone that "looks like you" and having a feeling of "not belonging" can discourage Black students from pursuing careers in science. 
Therefore, I try to do outreach at schools whenever I can so Black kids can know that it's possible for them to be a scientist when they grow up. It's also why I try to be active on social media in order to network, connect, and help highlight other Black scientists which can lead to communities being built. At my next career stage, I'm not only striving to answer the key questions in plant-microbe interactions, but I'm also striving to be a mentor to Black trainees and guide them into plant biology or other science fields for many years to come.