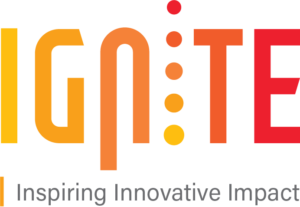 Solving our climate crisis will require radical
collaboration at the frontier of science and social action.
Join us for our October IGNITE event:
Connecting Global Ecosystems for Greater Impact
Wednesday, October 18, 4:30 – 6:30 PM
Danforth Plant Science Center
975 North Warson Rd 63132
4:30 - 5:15 PM Networking Reception
5:15 - 5:45 PM Panel Discussion
5:45 – 6:30 PM Social Hour
Tickets are complimentary, but seating is limited.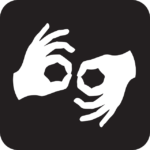 *An American Sign Language (ASL) Interpreter will be provided for this event.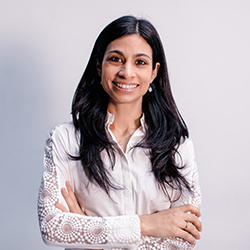 Teresita Di Marco
Moderator
Principal / The Yield Lab LATAM
Teresita has a PhD in International Relations, with a specialty in Sustainability. She is Principal at "The Yield Lab LATAM" and is also part of the "The Yield Lab Institute", the nonprofit arm of the venture capital fund "The Yield Lab", specialized in Agri-Food Tech. At The Yield Lab LATAM she supports technology adoption, digitization, and innovation in Agri-Food Tech ecosystems across Latin America and the Caribbean.
Español: Doctora en Relaciones Internacionales, especialista en Sustentabilidad. Teresita es Principal en "The Yield lab LATAM" y forma parte también del equipo de "The Yield Lab Institute", brazo nonprofit de los fondos de capital emprendedor  "The Yield Lab", especializados en AgriFoodTech. Desde The Yield Lab LATAM trabaja para el desarrollo de Ecosistemas que impulsen la adopción tecnológica, la digitalización y la innovación en el sector agroindustrial de América Latina y el Caribe.
Portuguese:  Doutora em Relações Internacionais, especialista em Sustentabilidade. Teresita é Principal do "The Yield lab LATAM" e também faz parte da equipe do "The Yield Lab Institute", braço sem fins lucrativos dos fundos de Venture Capital "The Yield Lab", especializados em AgriFoodTech. No The Yield Lab LATAM, trabalha para o desenvolvimento de ecossistemas que promovam a adoção tecnológica, a digitalização e a inovação no setor agroindustrial da América Latina e do Caribe.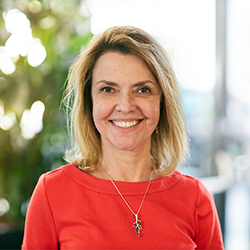 Gabriela Burian
Panelist
Global Director for Multi-Stakeholder Partnerships / Bayer Crop Science
Gabriela is the global head of multi-stakeholder partnerships at Bayer where she oversees Bayer Crop Science's strategy with global platforms and summits such as UNFCCC Conference of Parties (COP), Davos, and the Liaison Delegate with the World Business Council for Sustainable Development (WBCSD) and World Economic Forum (WEF). For over 20 years, she has worked to advance sustainability across the food and agriculture business being also a Board member of Technovation and Missouri Botanical Garden. Gabriela was recognized among 50 ESG (Environment Sustainability Governance) who are driving change: "Purposeful 50".  She is an Agricultural Engineer (Unicamp, Brazil) with a master's degree from the University of Science and Technology Languedoc (USTL, France).
Español: Gabriela es la responsable de Alianzas Institucionales de Bayer a nivel global y se encarga de la supervisión de la estrategia de Bayer Crop Science en plataformas y cumbres globales como la Conferencia de las Partes de la CMNUCC (COP) y Davos. Además es Delegada de Enlace ante el Consejo Empresarial Mundial para el Desarrollo Sostenible (WBCSD) y el Foro Económico Mundial (FEM). Durante más de 20 años Gabriela ha trabajado por impulsar la sustentabilidad en todo el negocio de la alimentación y la agricultura, siendo reconocida entre los 50 líderes ESG (Environment Sustainability Governance) que están impulsando el cambio: "Purposeful 50". Gabriela es Ingeniera Agrónoma (Unicamp, Brasil) y Magíster de la Universidad de Ciencias y Tecnología del Languedoc (USTL, Francia).
Portuguese: Gabriela é responsável pelas alianças institucionais da Bayer em todo o mundo e por supervisionar a estratégia da Bayer Crop Science em plataformas e cúpulas globais, como a Conferência das Partes da UNFCCC (COP) e Davos. Ela também é Delegada de Ligação do Conselho Empresarial Mundial para o Desenvolvimento Sustentável (WBCSD) e do Fórum Econômico Mundial (WEF). Há mais de 20 anos, Gabriela trabalha para promover a sustentabilidade em todos os negócios de alimentos e agricultura, sendo reconhecida entre os 50 líderes ESG (Environment Sustainability Governance) que estão impulsionando a mudança: "Purposeful 50". Gabriela é engenheira agrônoma (Unicamp, Brasil) e tem um mestrado pela Universidade de Ciências e Tecnologia de Languedoc (USTL, França).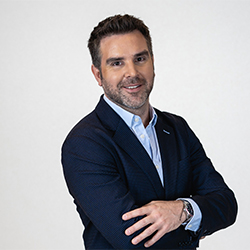 Luis Fernandez Zang
Panelist
Senior Investment Officer / IDB Lab / IDB Group
Luis is Senior Investment Officer at IDB Lab and IDB Group Investment Officer. With +9 years of working in the private sector international development industry originating and supervising a portfolio of development impact operations in Latin America and the Caribbean region, ranging from debt, quasi-equity and equity investments.  Luis Alejandro has an MBA from INCAE Business School, graduated Magna Cum Laude, with Finance and Sustainable Development majors and has an Advanced Corporate Finance Specialization from NYU Stern. Luis supervises the implementation of projects within IDB Lab's financial portfolio, leads the dialogue and direct negotiations with relevant public and private sector partners and leads project design teams to prepare operations. Luis is passionate about finance and innovation with a purpose to unlock development in the region.
Español: Luis es Oficial Senior de Inversiones en IDB Lab y Oficial de Inversiones del Grupo BID. Cuenta con  más de 9 años de historia de trabajo en la industria del desarrollo internacional del sector privado originando y supervisando una cartera de operaciones de impacto en el desarrollo en la región de América Latina y el Caribe, que van desde inversiones de deuda, cuasi capital y capital.  Luis Alejandro tiene un MBA de INCAE Business School, graduado Magna Cum Laude, con especializaciones en Finanzas y Desarrollo Sostenible y tiene una Especialización Avanzada en Finanzas Corporativas de NYU Stern. Actualmente se encarga de la supervisión e implementación de proyectos dentro de la cartera financiera de IDB Lab, lidera el diálogo y las negociaciones directas con los socios relevantes del sector público y privado y dirige los equipos de diseño de proyectos para preparar las operaciones. Luis es un apasionado de las finanzas y la innovación con el propósito de impulsar el desarrollo de la región.
Português: Luis é Diretor Sênior de Investimentos do BID Lab e Diretor de Investimentos do Grupo BID. Ele tem mais de 9 anos de experiência de trabalho na indústria de desenvolvimento internacional do setor privado, originando e supervisionando um portfólio de operações de impacto no desenvolvimento na região da América Latina e Caribe, que vão desde dívida, quase-capital e capital. Luis Alejandro possui MBA pela INCAE Business School, formou-se Magna Cum Laude, com especializações em Finanças e Desenvolvimento Sustentável e possui Especialização Avançada em Finanças Corporativas pela NYU Stern. Atualmente, ele é responsável pela supervisão e implementação de projetos dentro do portfólio financeiro do BID Lab, liderando o diálogo e negociações diretas com parceiros relevantes do setor público e privado, e liderando equipes de concepção de projetos para preparar as operações. Luis é apaixonado por finanças e inovação, com o objetivo de impulsionar o desenvolvimento na região.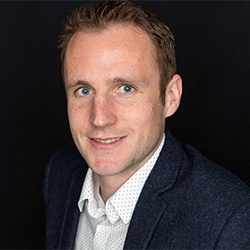 Mark Jarman
Panelist
Founder and Consultant / AgriTIERRA Ltd. and LATAM Lead / Agri-EPI Centre
Mark has spent the last 15 years working at the forefront of technology, science, and innovation across the agriculture and food system developing and delivering solutions and initiatives in over 25 countries. A sport loving geographer with a master's degree in Remote Sensing and GIS, Mark is passionate about bringing organizations together, building ecosystems, securing finance, and delivering solutions that provide change and benefits to all. Now living in Colombia, Mark founded AgriTIERRA in 2021 and leads a team of associates operating across UK and Latin American markets providing business and technical consultancy services to clients across the AgriFood system. Mark is leading the LATAM work for Agri-EPI Centre, a UK Government Funded Centre of Agri-Tech innovation developing a UK-LATAM Smart Farm innovation ecosystem.
Español: Mark ha dedicado los últimos 15 años a liderar innovaciones tecnológicas y científicas en el sector agroalimentario, impactando a más de 25 países en todo el mundo. Con una formación como geógrafo y un máster en Teledetección y SIG, Mark combina su pasión por el deporte con su experiencia en la creación y ejecución de soluciones que transforman el panorama agroalimentario. Actualmente, reside en Colombia y en 2021 fundó AgriTIERRA. En calidad de director, lidera un equipo de colaboradores que operan tanto en el Reino Unido como en América Latina. AgriTIERRA se especializa en brindar servicios de consultoría técnica y empresarial a clientes de la industria agroalimentaria, construyendo puentes entre organizaciones, fomentando ecosistemas colaborativos, asegurando financiamiento y proporcionando soluciones que generan un impacto positivo en todo el sector. Mark lidera el trabajo en Latinoamérica para Agri-EPI Centre, un centro de innovación agrotecnológica financiado por el gobierno del Reino Unido que desarrolla un ecosistema de innovación Smart Farm entre Reino Unido y Latinoamérica.
Portuguese: Mark dedicou os últimos 15 anos a liderar inovações tecnológicas e científicas no setor agroalimentar, impactando mais de 25 países ao redor do mundo. Formado como geógrafo e com mestrado em Sensoriamento Remoto e GIS, Mark combina sua paixão pelo esporte com sua experiência na criação e execução de soluções que transformam o cenário agroalimentar. Atualmente reside na Colômbia e em 2021 fundou a AgriTIERRA. Como diretor, lidera uma equipe de colaboradores que atuam no Reino Unido e na América Latina. A AgriTIERRA é especializada na prestação de serviços de consultoria técnica e empresarial a clientes da indústria agroalimentar, construindo pontes entre organizações, fomentando ecossistemas colaborativos, garantindo financiamento e fornecendo soluções que gerem um impacto positivo em todo o setor. Mark está liderando o trabalho LATAM para o Agri-EPI Centre, um centro de inovação Agri-Tech financiado pelo governo do Reino Unido que desenvolve um ecossistema de inovação Smart Farm entre o Reino Unido e a LATAM.