Enriching STEAM Education Through Technology
The Education Technology Program uses cutting-edge technology to engage and inspire students to pursue STEAM careers. Immersive educational experiences are offered through augmented and virtual reality, 3D modeling, computer gaming, and more, making science accessible to all.
Education Technology Program
The application and innovation of technology are essential components of the transformative change that education is currently experiencing. Emergent technologies and practices, such as augmented and virtual reality (AVR), are playing a key role in improving student access to content and enriching experiences in science, technology, engineering, art, and math (STEAM), contributing to their interests and motivation in STEAM fields and careers.
The Education Technology Program offers students learning experiences that foster engagement in science practice, collaboration, and communication by using AVR and other technologies such as 3D modeling and computer gaming. 
Underserved and rural schools have limited resources to access science research facilities and scientific laboratories. Students with disabilities have limitations to firsthand and hands-on science experiences. Our Plant and Agriculture AVR Learning Laboratory (PAVRLL) provides the training, curricula, and equipment necessary to bring plant and agricultural sciences to the classroom through virtual, in-person, and hybrid experiences.
Integration of Science, Design, and Technology through 3D Plant Modeling
This project addresses the disconnect between science, design and technology, and how high school students can benefit from innovative learning experiences in plant and agriculture sciences that integrate these disciplines while gaining interest in and skills for future STEAM careers. Through this project, students create 3D plant models of species of research importance at the Danforth Center. Students work in collaborative teams made of self-identified scientists, technophiles, and artists. A STEAM approach is applied in which students' projects are focused not only on the final product but also on the artistic creative process. Students interact with researchers and present their projects at public and scientific events to practice their science communication skills. By using 3D models in augmented and virtual reality, the students learn about the applicability of their own products in education and technology. By integrating design and technology with science, students learn that art and design are an essential part of plant and agriculture sciences to prepare for their future STEAM careers.
This project is supported by NSF-ITEST (Award #1949463) in collaboration with zSpace and Danforth principal investigator Christopher Topp.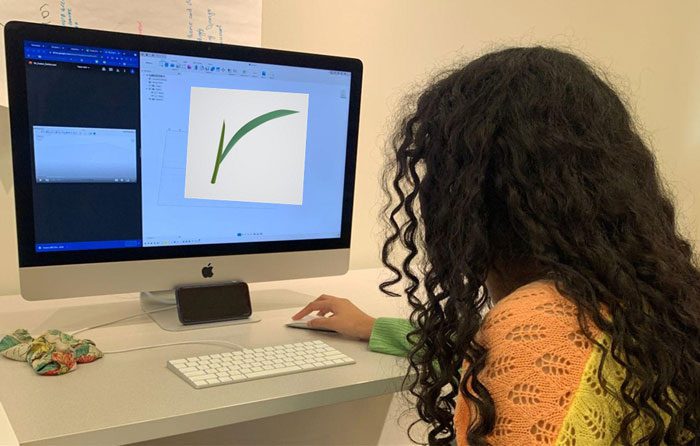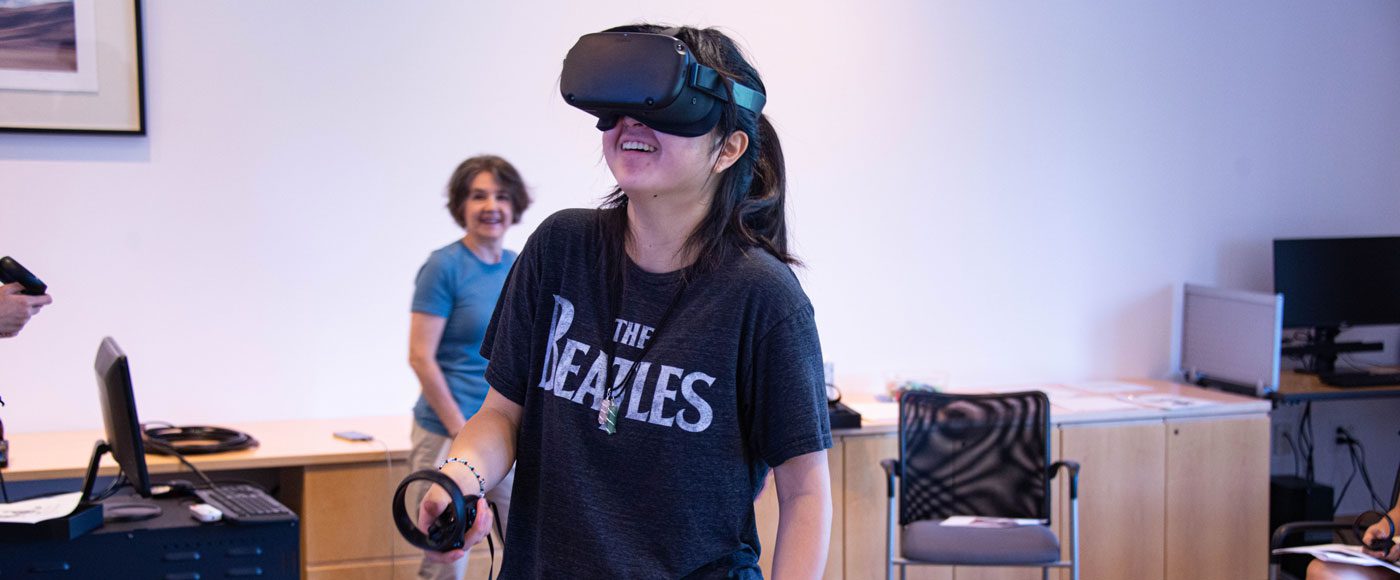 Plant and Agriculture Augmented and Virtual Reality Experiences
Augmented and virtual reality are technologies that offer immersive experiences where users participate in activities and communicate with others, experiencing a degree of presence. Augmented reality (AR) is a 3D technology that enhances the users' sensory perceptions of the real world by augmenting their surroundings using digital elements through a computer, camera, or a smartphone. Virtual reality (VR) is a 3D computer-generated simulation that replaces a real-life environment with a simulated one, which seems very real to the user and is perceived through head-mounted devices.
In education, augmented and virtual reality (AVR) improve student learning and motivation through engaging experiences. Students can embark on exceedingly difficult or impossible journeys, such as transporting students in space and through time, or experimenting with unobservable phenomena. These immersive experiences inspire creative and constructivist learning. The PAVRLL offers AVR experiences that allow students to learn about plants and agriculture by conducting immersive activities and visiting and interacting with exhibitions and virtual laboratories.
The Soybean Saga to Food and Climate Security
The Soybean Saga to Food and Climate Security, is an immersive virtual reality activity for Oculus. This activity consists of visiting four virtual exhibits that cover different aspects of plant biology and agriculture with the Soybean as the main character and host. The first exhibit highlights aspects of plant reproduction and human usage. The second exhibit presents the relationship between the soybean and nitrogen-fixing bacteria. The third exhibit introduces the problem of pollution due to synthetic nitrogen. The last exhibit presents research conducted on soybeans at the Danforth Plant Science Center. As the player moves through the exhibits, they have the options to collect soybean pods for points, watch videos, and respond to questions. The PAVRLL provides schools with Oculus Quest head-mounted virtual-reality goggles in a loan-rotation system. If a school has Oculus Quest, the Soybean Saga can be uploaded into the devices.
This project was supported by the USDA-NIFA (Award #2019-68010-29154) in collaboration with Danforth principal investigator Christopher Topp.
Mutant Millets Authentic Research Immersive Experience
The Mutant Millets Authentic Research Immersive Experience is a simulation of a virtual lab where students grow the green foxtail millet (Setaria viridis) and collect plant data at different stages of development on traits that are of scientific importance. The green foxtail millet is related to economically important plants like corn and sugarcane. This plant is a model plant for engineering C4 photosynthetic traits into C3 plants. Scientists have sequenced its entire genome, making it useful for comparative genomics with cereal crops. In the real world, high school and college students grow plants from different lab-generated mutant seed populations and report traits that are useful to scientists who are improving crops for food, feed, and fuel. A future version of this virtual world will include the collection of true data generated by students that have contributed to the Mutants Millet project (mutantmillets.org).
This project was supported by the USDA-NIFA (Award #2019-68010-29154) in collaboration with Danforth principal investigator Christopher Topp.
Learning Plant and Agriculture Science Using Augmented Reality With zSpace
Augmented Reality (AR) incorporates information from the virtual world into real world experiences. The zSpace company, offers a combined augmented and virtual reality (AR/VR) platform in an all-in-one computer to create lifelike learning experiences that are immersive, interactive, and multi-sensory. Through its focus on education, zSpace delivers the ultimate learning experience to inspire curiosity and accelerate understanding, enabling interaction and group collaboration. zSpace offers a diverse array of STEAM activity plans that benefit educators and students "learning by doing" in an environment where is possible to undo mistakes, make changes, and not worry about material costs or clean-up.
This new style of experiential learning gives students the opportunity to use, edit, and create zSpace activities to increase their connectivity to plant, food, and agricultural sciences, while improving their application for plants. The ability to create your own zSpace activity empowers students to ask questions, gather information, develop models, test ideas, analyze data, and develop conclusions.
This project was supported by the USDA-NIFA (Award #2019-68010-29154) in collaboration with Danforth principal investigator Christopher Topp.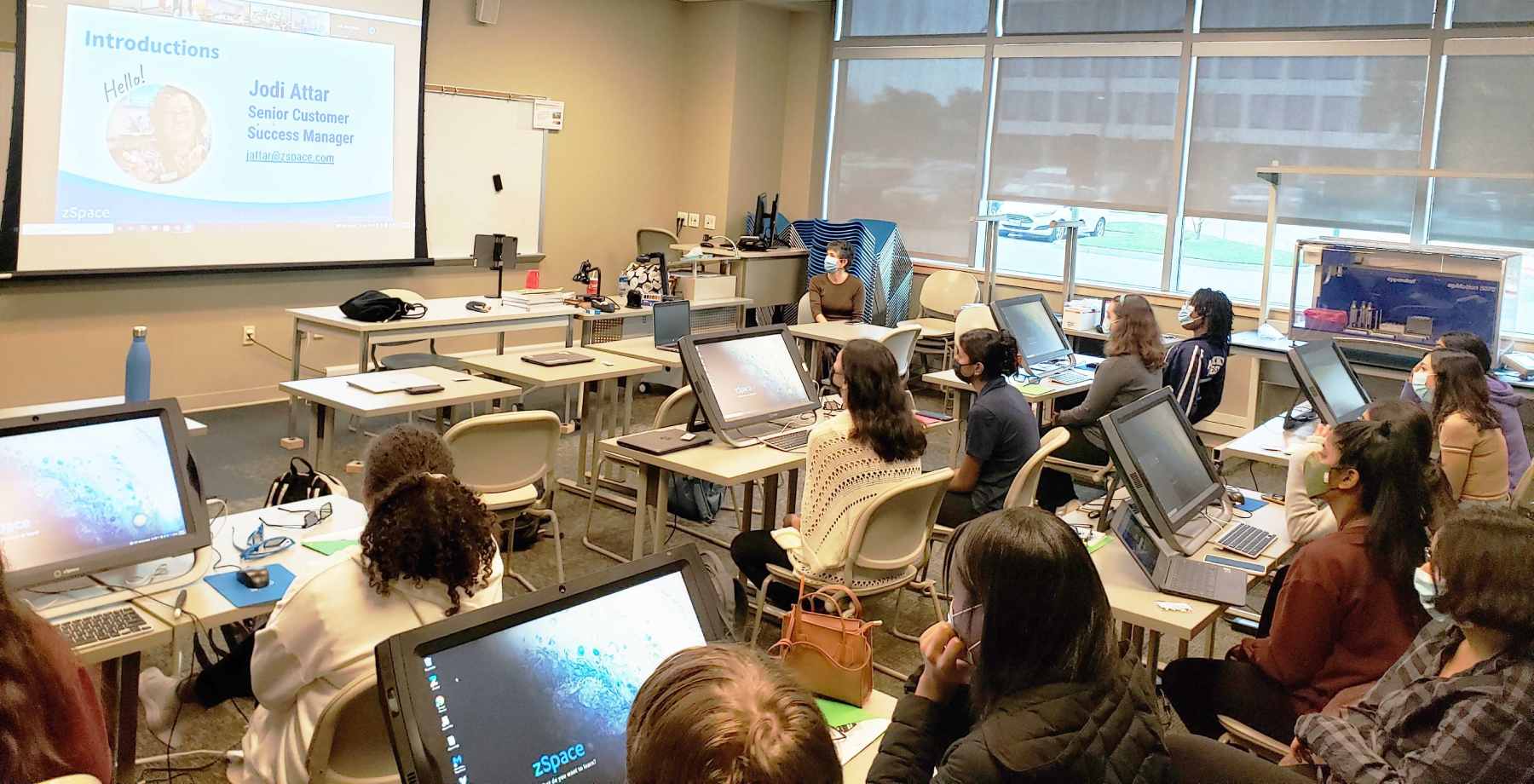 Drought Defense in Plant Cells Video Game
The purpose of this activity is to integrate concepts in plant and mathematical biology for high school students through video gaming. The game allows players to help a plant cell fight drought by controlling the ratio of proteins and hormones that send signals to the DNA to defend the cell and capture energy using photosynthesis. Scientists study drought to develop better farming practices, more resilient crops, and to create strategies that help ecosystems survive. Engaging with mathematical models via technological tools helps increase student interest and confidence, while learning more about plants increases student interest in plant biology and awareness of the role plants play in our environment.
This project was supported by the Society for Mathematical Biology.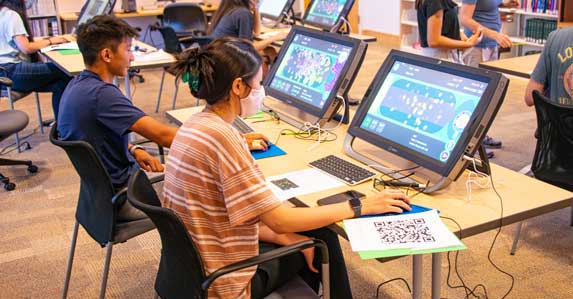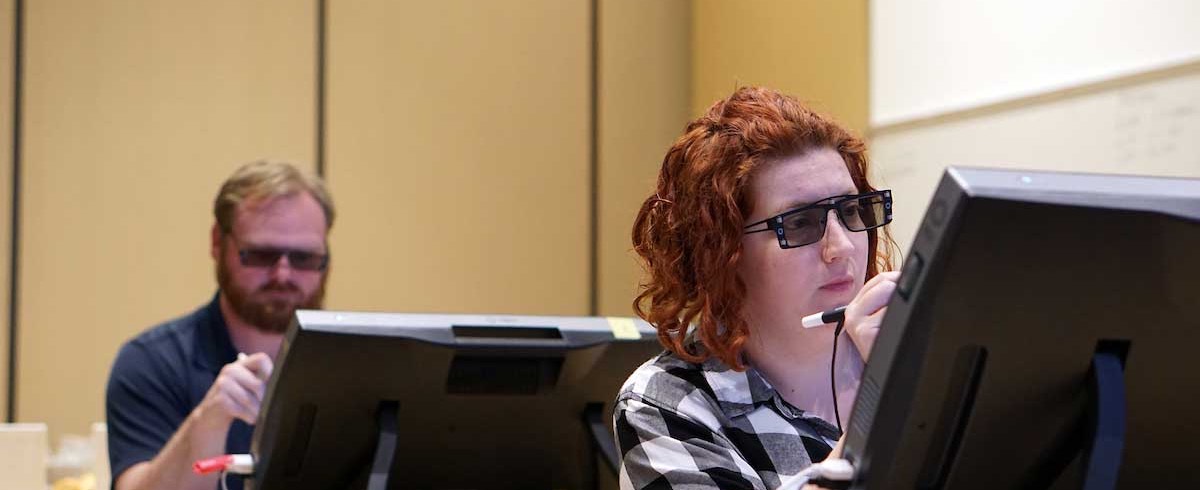 Professional Development in Education Technologies
Cutting-edge technologies are transforming the classroom learning space. The PAVRLL offers professional development to informal and formal STEAM educators from rural, suburban, and rural settings to help them prepare the next generation of scientists. Through technology, STEAM educators are better positioned to offer their students a new style of firsthand learning to increase their connectivity to plant, food, and agricultural sciences. Teachers become immersed in and interact with augmented and virtual reality apps using VR headgear and controllers, laptops, and zSpace systems.
Participants of this professional development opportunity have access to curricula, technical and scientific support, and equipment on a loan-rotation system, to bring plant and agricultural sciences to the classroom through virtual, in-person, and hybrid experiences.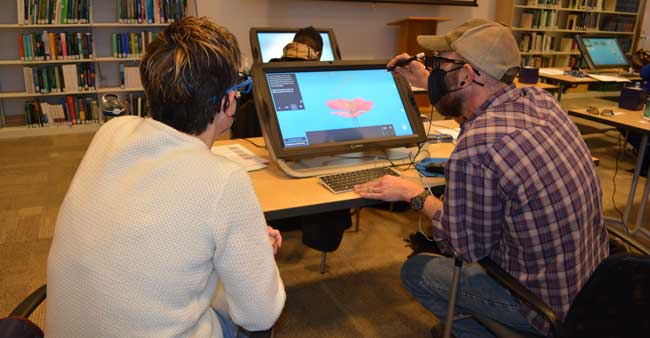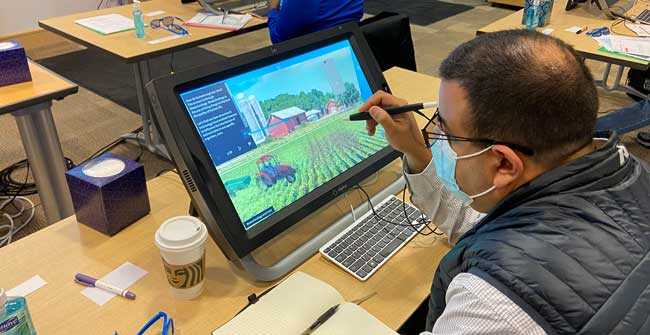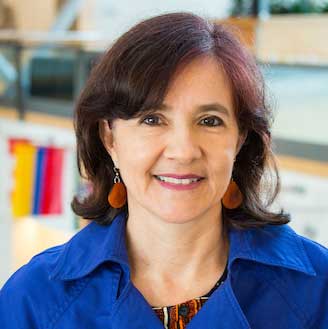 Sandra Arango-Caro, PhD
Education Researcher & Program Manager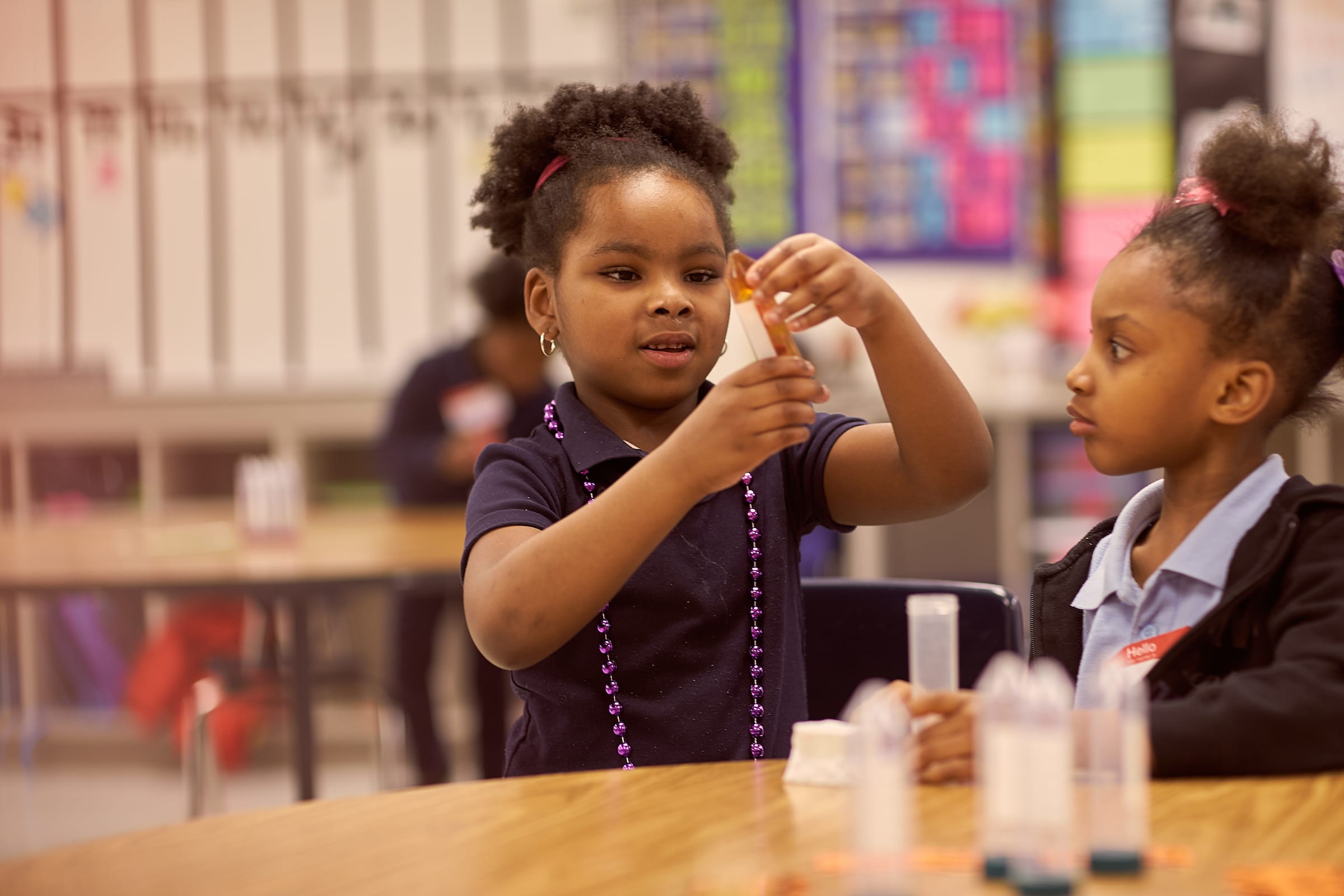 Authentic Research Experiences and CURES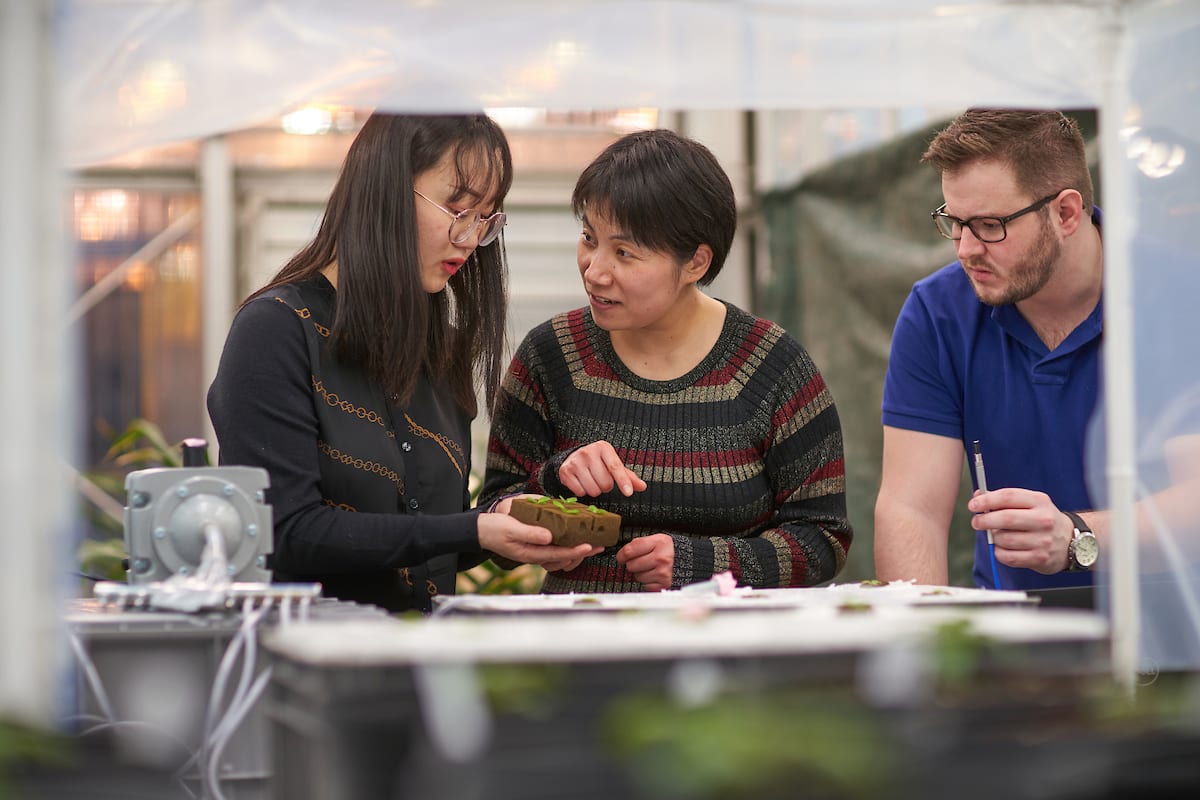 Undergraduate Program