USDA Clears Danforth Center's Genome Edited Teff
ST. LOUIS, MO, April 4, 2023 – A pre-market regulatory status review conducted by the United States Department of Agriculture (USDA) Animal and Plant Health Inspection Service has concluded that teff modified by genome editing to have a semi-dwarf stature is not subject to biotechnology regulation under USDA's SECURE Rule.  
The new semi-dwarf teff was developed by researchers at the Donald Danforth Plant Science Center's Institute for International Crop Improvement (IICI), who are collaborating with the Ethiopian Institute of Agricultural Research to improve teff productivity using new plant breeding techniques.  The reduced height of the new teff lines is expected to provide resistance to lodging (falling over) that results in yield losses of up to 25%.  
Lodging in teff, which causes the plants to bend or break because of wind or heavy rain, can significantly reduce harvestable yield of the grains and makes the plant more susceptible to diseases and pests.  This can lead to reduced grain quality, such as lower protein content and increased levels of contaminants.  
"I grew up on a farm in Ethiopia and know first-hand that if we succeed, the benefits will be immense for our farmers," said the IICI's Senior Manager, Regulatory Science, Getu Beyene Duguma, PhD.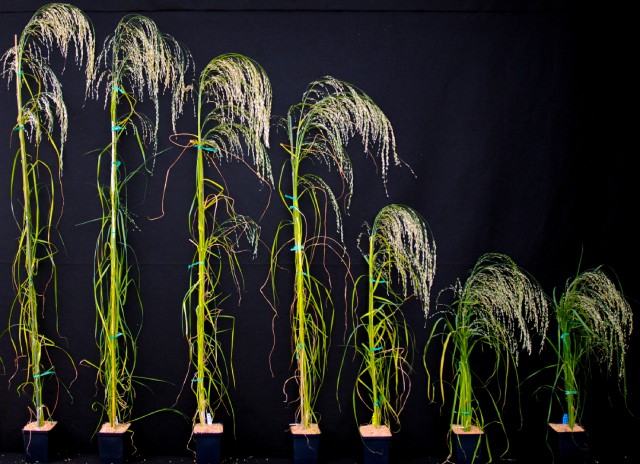 Teff is a small grain native to Ethiopia, where it is a staple food for millions and is estimated to provide up to two-thirds of the protein and dietary fiber consumed in the country.  In addition to being a staple food for Ethiopians, teff is also an important source of income for many small-scale farmers in the country.  
Teff has gained popularity worldwide due to its many health benefits and culinary versatility.  It is a nutrient-dense grain that is high in protein, fiber, and several important minerals such as iron, calcium, and magnesium. Teff is also gluten-free, making it a great option for people with celiac disease or gluten intolerance. Teff production in the western United States, primarily in California, Colorado, Idaho, Nevada, and Oregon, has been increasing in recent years because of a growing demand for gluten-free and healthful grains.
"We are greatly encouraged by this USDA decision as it establishes an important precedent for future teff plant breeding innovations to tackle productivity constraints, such as pod shattering, small grain size, weed control, and climate change," said Donald MacKenzie, PhD, executive director of IICI.  "Our semi-dwarf teff lines will be undergoing field performance evaluation this year at the Danforth Center's field research site."
About the Institute for International Crop Improvement
The Institute translates plant science discoveries and technology into food and nutrition security solutions for the people that need them most.  IICI is dedicated to improving the disease and pest resistance, nutritional content, and harvest of staple crops that are critical to the health and livelihood of small-scale producers and the millions of people that depend on them for food and nutrition.  Through international collaborations, IICI connects leading scientists and cutting-edge technologies and is a focal point for technical capacity enhancement and the implementation of best practices across the crop improvement development path.

Donald Danforth Plant Science Center
Founded in 1998, the Donald Danforth Plant Science Center is a not-for-profit research institute with a mission to improve the human condition through plant science. Research, education, and outreach aim to have an impact at the nexus of food security and the environment and position the St. Louis region as a world center for plant science. The Center's work is funded through competitive grants from many sources, including the National Science Foundation, National Institutes of Health, U.S. Department of Energy, U.S. Agency for International Development, and the Bill & Melinda Gates Foundation, and through the generosity of individual, corporate, and foundation donors. Follow us on Twitter at @DanforthCenter.
For more information contact:
Danforth Plant Science Center, Karla Roeber, kroeber@danforthcenter.org, 314.406.4287