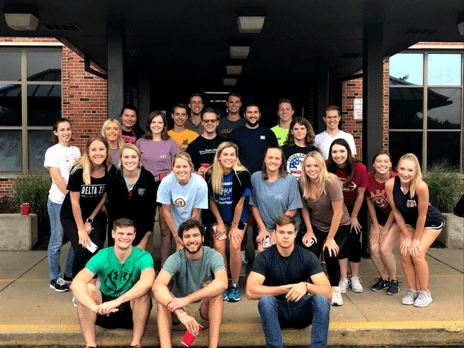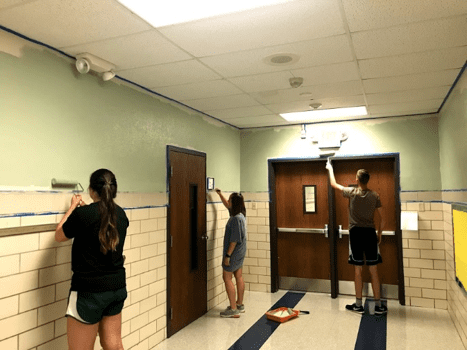 Partnership on Parade
Maritz Interns Help Danforth Partner School to Sparkle
On Monday, July 30, a team of 28 volunteers from Maritz, a Danforth Center corporate partner, brought their energy and enthusiasm to Marvin Elementary in the Ritenour School District. In just one half-day, they cleaned and painted the halls to help transform the educational environment for improved STEM learning.
"The physical surroundings in which a student engages in learning can have a profound impact," said Marvin Principal Nicole Autenrieth. "The volunteers from Maritz—along with teachers and staff from Marvin Elementary and the Danforth Center—played an important role in helping to nurture student achievement."
Marvin is the newest participant in the Danforth Center's STEM education and outreach program Green Means Grow (GMG). As part of GMG, Marvin Elementary receives gardening equipment and supplies, as well as curriculum and teacher professional development, to bring plant science to life in the grade school classroom. Danforth Center educators also help produce an annual STEM Splash Day at the school, where students can perform hands-on STEM activities and interact with Danforth Center scientists.
Science education opportunities throughout the K-12 period are critical to fostering continued enthusiasm for and confidence in STEM subjects. The long-term goal of GMG is to help today's K-8 students throughout the St. Louis community—especially minority and underserved students who are underrepresented in STEM fields—realize their full potential for being a part of the STEM workforce of tomorrow.
Generous support from Maritz and others in the St. Louis community enables the Danforth Center STEM education team to reach more than 2,500 students annually in schools in the Ritenour, Hazelwood, and St. Louis Public school districts.
"We are grateful to Maritz for their loyal support of the Danforth Center's STEM education programs," said Brian Russell, the Danforth Center's director of corporate and foundation giving. "The hard work of the energetic Maritz Motivation Solutions interns was yet another donation of time and talent. The Danforth Center is proud to be a partner of Maritz."
# # #