Training the next generation of scientists infuses all of the work at the Danforth Plant Science Center. This includes young scientists in St. Louis as well as abroad to ensure the cutting-edge technologies that are needed to improve agricultural productivity are shared across the globe.
In September, the Center's Institute for International Crop Improvement (IICI) sponsored four early-career scientists to attend the 7th annual South Asia Biosafety conference in Dhaka, Bangladesh, the premiere biosafety meeting in South Asia.
"The objective of supporting their participation was to give these scientists an opportunity to learn about recent developments in agricultural biotechnology and biosafety that are critical to their crop improvement projects, and to provide collaboration opportunities," said Donald MacKenzie, Ph.D., Executive Director, Institute for International Crop Improvement.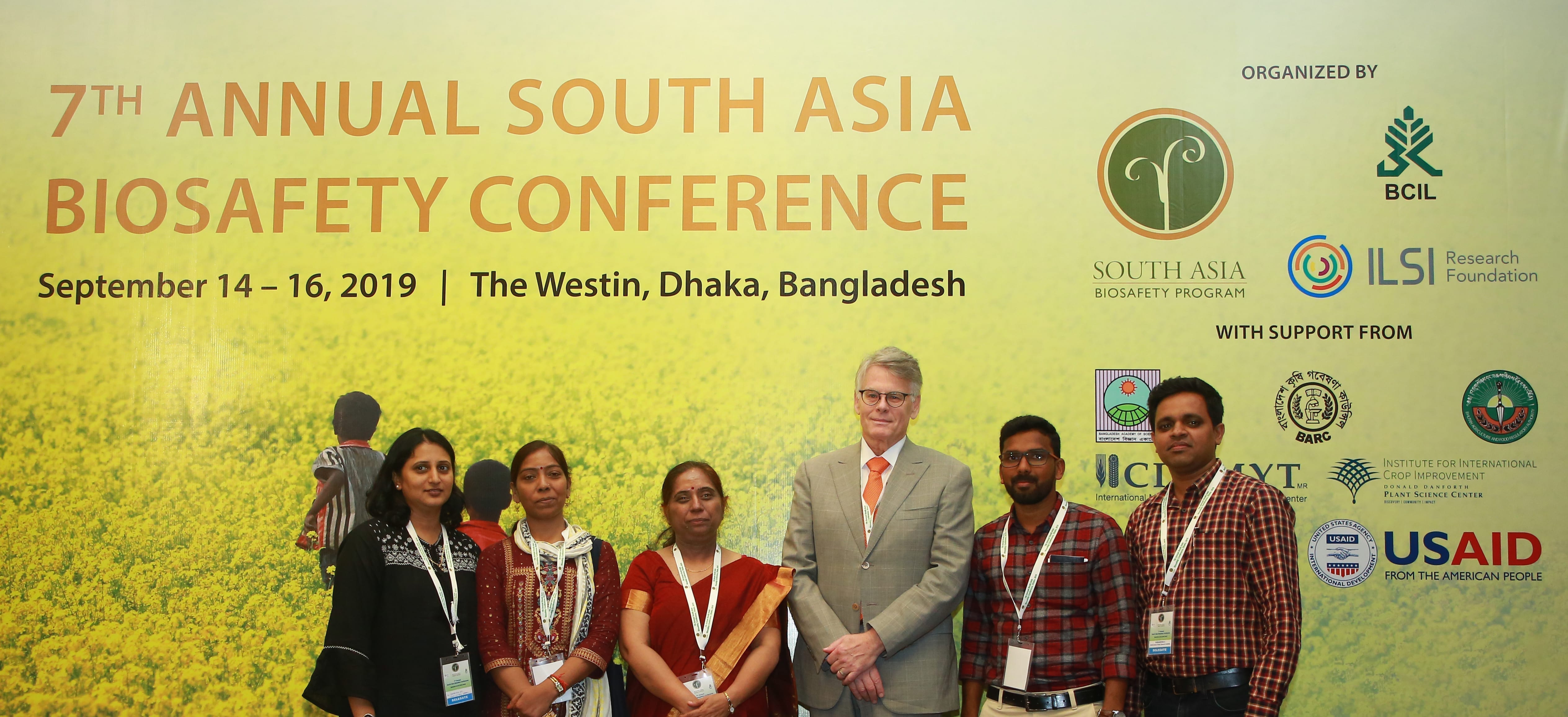 The young scientists were identified through a call for abstracts across the Indian Council of Agricultural Research (ICAR), and after careful review, four individuals working within the ICAR-Network Project on Transgenics in Crops were selected to attend.  Their travel, accommodations and registration fees were provided by the IICI.
Dr. S. Sundaresha, ICAR-Central Potato Research Institute, Shimla
Dr. Mamrutha H.M., ICAR-Indian Institute of Wheat and Barley Research, Karnal
Dr. Neetu Singh Kushwah, ICAR-Indian Institute of Pulse Research, Kanpur
Dr. Manoj V M, Division of Crop Improvement, ICAR-Sugarcane Breeding Institute, Coimbatore, Tamil Nadu
The four ICAR scientists joined more than 150 of their colleagues from 10 countries for three days to discuss biotechnology applications for sustainable development, environmental risk assessment, and biosafety regulation.  Participants included a cross section of regulators, scientists, central and state government, industry and students.  Attendees gained insights from many experienced scientists including Dr. Arunendra Nath Lahiri Majumder, Dr. Sampa Das, Dr. Donald MacKenzie, Dr. Rob Bertram, Dr. Francis Nwankwo Onyekachi, Dr. Deepak Pental, Dr. Ramaiah Valasubramanian, Dr. Frederic Tripet, Dr. Inez H Slamet-Loedin and others who shared their experiences in meeting biosafety challenges.
Following the conference, the scientists were asked to reflect on their participation in the conference:
"This conference provided exposure to new concepts, challenges, and opportunities in agricultural biotechnology and genome editing, including regulatory issues on the release and use of transgenic and gene edited products." - Dr. S. Sundaresha, ICAR-Central Potato Research Institute, Shimla
"I came to know about extensive research programs going on in wheat blast in Bangladesh and interacted with the scientists and research fellows for probable collaborations.  The information on different biosafety regulations working across South Asian countries and elsewhere will help me in prioritizing many issues in my research on gene editing in wheat by keeping in mind the present policy and commercialization strategies.  –  Dr. Mamrutha HM., ICAR-Indian Institute of Wheat and Barley Research, Karnal, Haryana
"The conference was a wonderful opportunity for me to present my research internationally and to meet and interact with the crop experts from public sector institutions and regulatory agencies in South Asia and around the globe.  It also exposed me to ongoing priority research areas in transgenic crops in different countries." - Dr. Neetu Singh Kushwah, Scientist, ICAR-Indian Institute of Pulse Research, Kanpur
"It was a well-managed program which covered biosafety concerns of all of the South Asian nations and the latest genome editing technologies like CRISPR/Cas, TALENS, ZFN, etc. The sessions including discussions about technical or practical difficulties along with the potential impact in resolving difficult tasks over genome editing." - Dr. Manoj V.M. ICAR-Sugarcane Breeding Institute, Coimbatore, Tamil Nadu