Danforth Center Principal Investigator Bing Yang named American Association for the Advancement of Science 2022 Fellow
ST. LOUIS, MO, January 31, 2023 – Bing Yang, PhD, member and principal investigator at the Donald Danforth Plant Science Center and professor of plant science, College of Agriculture, Food and Natural Resources at the University of Missouri – Columbia, has been elected as a 2022 Fellow of the American Association for the Advancement of Science (AAAS) for his distinguished contributions to plant gene editing and understanding plant disease.
Yang and team seek to lessen the impact of diseases in rice through his research on susceptibility and resistance of plants to pathogenic microbes on a molecular level. His research has contributed directly to the engineering of improved traits like disease resistance in crop plants, and his methods have inspired the development and application of new technologies for gene and trait discovery in plant research.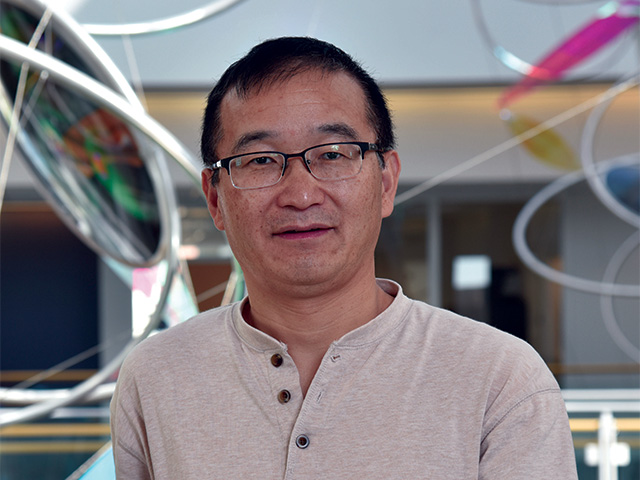 "It is a great honor and pleasure to be nominated and elected to be an AAAS Fellow, and I am so grateful for the great works by my current and former lab members as well as collaborators worldwide," Yang said. "Hopefully, our research to better understand crop biology and develop a genome editing toolbox will make crops more resilient and productive as well as make food more nutritious."
"Bing Yang is an exceptionally productive, creative scientist who is doing important work," said Danforth Center President and CEO, Jim Carrington, PhD. "As a joint faculty member with Mizzou, he embodies the spirit of collaboration between our institutions."

Donald Danforth Plant Science Center
Founded in 1998, the Donald Danforth Plant Science Center is a not-for-profit research institute with a mission to improve the human condition through plant science. Research, education and outreach aim to have impact at the nexus of food security and the environment and position the St. Louis region as a world center for plant science. The Center's work is funded through competitive grants from many sources, including the National Science Foundation, National Institutes of Health, U.S. Department of Energy, U.S. Agency for International Development, and the Bill & Melinda Gates Foundation. Follow us on Twitter at @DanforthCenter.
For more information contact:
Danforth Plant Science Center, Karla Roeber, kroeber@danforthcenter.org, 314.406.4287