At the Danforth Center, we believe in "sharing our science." Whether it's through science education & outreach programs for grades K-12, high school internships, or graduate student opportunities, we want to share our science to inspire the next generation of plant scientists. By creating opportunities to learn about plant science at all stages of education, we can create a more inclusive and accessible science community.
Danforth Center Principal Investigator Ivan Baxter, Ph.D, shares this passion for creating a more inclusive science community. "Science can be messy, and science can be hard," he explains. "If we want to have an inclusive community of scientists, we have to make it easier for people to understand how to work in the science culture." In July of 2017, Ivan teamed up with Liz Haswell, associate professor of biology at Washington University, to create Taproot Podcast and address this challenge head-on. The American Society of Plant Biologists was also an early supporter, serving as a sponsor and host of the podcast since its inception. Through Taproot, Ivan and Liz explore the working world and publication process of real-life plant scientists, and make it accessible to thousands of emerging plant scientists as a resource.
On Taproot, Ivan and Liz cover recent publications and the story behind the publications, but they also go beyond the science itself. One of Ivan's favorite episodes of Taproot is Episode 6 in Season 2 on trainee mental health. Another is Episode 2 in Season 1 about working in collaborations and how to navigate them. "I hope it is helping trainees understand that they are not alone out there if they are having trouble, and that there are people trying to improve it," says Ivan. By publicly talking about challenges facing emerging scientists, Ivan and Liz hope that Taproot ultimately creates a sense of community where young scientists feel supported.
"People have approached us at conferences saying that they like the podcast. That makes Liz and I feel really great about what we're doing with Taproot," says Ivan.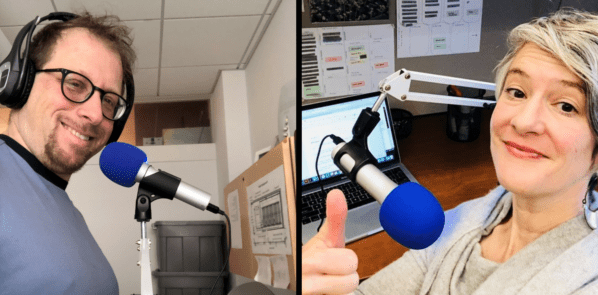 Today, Taproot has had over 44,000 downloads. Liz and Ivan are in the midst of their 3rd season, which is based on the theme of myth-busting. "We wanted to directly address things that are out there that people might consider 'truisms' that are not," explains Ivan. Ivan and Liz are currently on a short break in the middle of their third season, but you can expect more exciting episodes in the coming weeks. They'll be discussing how to speak up when you're a junior researcher to try and effect change before you are established. They'll also be covering how to walk the line between collaboration and competition, which can be extremely important skill to have as many scientists are working in collaborative lab settings.
While you wait to hear Liz and Ivan break these big myths, take a listen to their podcast archive. They have twenty episodes to choose from, some that include other Danforth Center Principal Investigators, like this episode featuring Toby Kellogg. Taproot podcast is available on all major podcast apps, so we encourage you to take a listen to hear Ivan and Liz break big science myths for yourself!