Better for Farmers, Better for the Planet
Once upon a time, chemical pesticides were used in a broad-spectrum approach that killed beneficial insects along with the crop pests. Now, thanks to a cutting-edge technology developed by Danforth Center scientists, a greener era may be dawning...
Researchers at the Danforth Center have developed technology with a novel mode of action to produce sustainable—and scalable—insect control. Developed jointly by Bala Venkata, PhD, senior research scientist, and Nigel Taylor, PhD, associate member and Dorothy J. King Distinguished Investigator, the approach uses RNA interference (RNAi) to target highly specific insects. The new start-up, RNAissance Ag, was recently launched by the Danforth Center and venture firm TechAccel to speed the development of new sprayable products.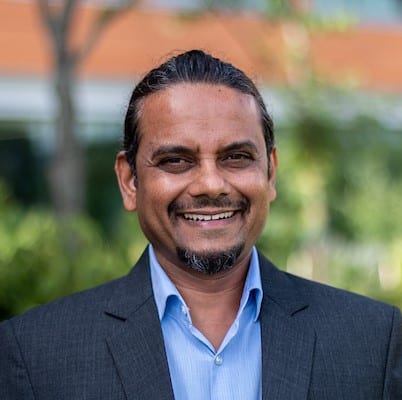 "RNA interference technology provides insect control with less waste, fewer health risks, and no collateral damage."
-Bala Venkata, PhD, Danforth Center scientist and co-founder
When you support the Danforth Center, you are helping find sustainable solutions to some of the 21st century's most pressing challenges. Please consider a gift to the Impact Fund today. 
The Donald Danforth Plant Science Center is a 501(c)3 nonprofit and depends upon the support of people like you. Your contribution is tax deductible as allowed by law.