Danforth Center Community Members Step up during COVID-19
The Danforth Center is a scientific institute with a mission to improve the human condition through plant science. Our mission demands constant innovation and nimble responsiveness to emerging threats in the plant and agtech world. During the COVID-19 crisis, the people of the Danforth Center have continued working to find innovative solutions to complex problems. At a time when healthcare workers, first responders, and the immune-compromised in our region need protective equipment, Danforth Center employees have gotten creative and found unique ways to volunteer to advance local initiatives. Whether it's donating their time and expertise, or helping to source or donate materials for the effort, Danforth Center staff are doing their part to help #flattenthecurve during the COVID-19 pandemic.
Face Shield Initiative STL is a volunteer effort to fabricate vital medical equipment (the DtM-v3.0 face shield) using 3D printing during the COVID-19 pandemic. When Danforth Center Grants Specialist Missy Rung-Blue heard about it, she thought, "We can do that!" Her husband is a 3D printing hobbyist, so together they began printing the brackets used in face shields as part of the initiative.
But that's not the only way Missy and the Danforth Center have supported the effort. When the group put out a call for donations of transparency film, Missy thought the Danforth Center could be a resource. "I knew the Meyers lab had a box or two, maybe others," said Missy. Minimum Basic Operations crew Vanessa Johnson, Byron Rusnak, and Patrick Hoff, all from the Meyers lab, helped round up and secure the film from various locations. Danforth Center facilities team members Todd Hornburg and Sherry Cook then facilitated the pick up of the materials.
The film was delivered to Face Shield Initiative STL who, with the help of several maker groups, quickly began converting the film into clear face guards. As of April 4, the group has made and donated more than 1,100 face shields to St. Louis healthcare providers and first responders.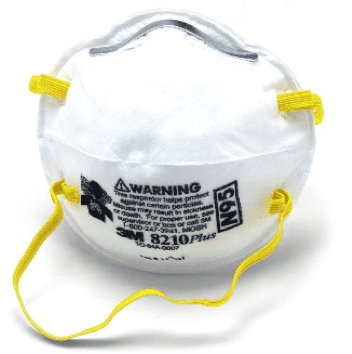 As a scientific institution, community members at the Danforth Center occasionally use masks in their work. After a quick inventory, the Danforth Center discovered hundreds of N95 protective masks in long-term storage and several dozen N99 masks from the Slotkin lab as well. The items were rapidly donated to the St. Louis Metropolitan Pandemic consortium of healthcare organizations, which includes BJC, SSM, Mercy, and St. Luke's. It's a modest contribution, but one which all local users of masks are certainly trying to make.
While there were only so many N95 and N99 masks to be donated, many more face masks are being made available to medical personnel thanks to the work of several Danforth Center employees. Talented sewists on the Danforth Center staff have been sewing masks as part of the Greater St. Louis One Million Mask Drive. This is one of the largest groups in the area, with more than 1,500 people involved. They are using a standard pattern approved by BJC Healthcare to fit over N95 masks to help extend their usefulness. "I have friends who are medical personnel and first responders, and they asked me to help," said Maureen Herraghty, Danforth Center's director of library services, who has sewn more than 50 masks for donation. Other Danforth Center community members, like Joyce Pluhar, director of major and planned gifts, are sewing to help friends and neighbors too. "I am focused on getting masks to people with compromised immune systems, who might not have the protection they need."
During this unique moment in history, the first priority of the Donald Danforth Plant Science Center is the health and safety of our community and our region. In the words of our President Jim Carrington: "The COVID19 pandemic is a serious threat to public health, and one that requires all of us to respond with action." Read more of Jim's thoughts and what the Danforth Center is doing to help here.