In a new report, Rethinking Cluster Initiatives, from the Brookings Metropolitan Policy Program, argues that initiatives to support and grow industry clusters remain a potentially powerful strategy to jumpstart local economic growth, but only if certain market and civic fundamentals are in place. In the report, agriculture technology in St. Louis is cited as a successful model and national case study.
Co-authors, Ryan Donahue, Brookings fellow and Joseph Parilla, and Brookings nonresident senior fellow Brad McDearman, reviewed the concept of industry clusters—groups of firms that gain a competitive advantage through local proximity and interdependence—and offers practical guidance for metropolitan leaders considering investments in cluster initiatives, drawing on five in-depth case studies. The report illustrates that initiatives to support and grow industry clusters remain a potentially powerful strategy to jumpstart local economic growth, but only if certain market and civic fundamentals are in place.
"The Brookings Institution is one of the finest think tank policy analysis organizations in the in the world, and I was really pleased that it shines a spotlight on the region's strength in ag innovation and commercialization and how the Danforth Plant Science Center has been a driver in the effort. Much of the credit goes to Dr. Danforth, whose passion and dedication brought together community leaders that gave of their time, energy and resources," said Sam Fiorello, Chief Operating Officer, Danforth Plant Science Center and President of BRDG Park.
"At a time when a few elite coastal metro areas seem to be solidifying their hold on the most innovative, high-growth sectors of the economy, regions across the U.S. are under more pressure than ever to figure out how they can secure a foothold in the next economy," said co-author Ryan Donahue of the Metropolitan Policy Program at Brookings Institution. "St. Louis offers a model for how to do so: for nearly two decades, it has patiently and collaboratively made strategic investments in the capital, facilities, and skills that its agriculture technology cluster needs. These investments have made St. Louis a better place to start and grow an ag-tech firm, put the region on the radar of global firms and talent, and positioned it as a leader in solving the global challenge of creating more sustainable food sources."
St. Louis is home to more than 800 plant science Ph.D. scientists. While post-doctoral researchers are the core, the cluster also relies heavily on a range of other skills, from lab technicians to regulatory experts, economists, and experienced CEOs. It also incorporates finance, insurance, and law firms and specialized facilities like research-grade greenhouses, microscopy, proteomics, tissue culture, and powerful computers for bioinformatics. Crucially, there are also experts that run the equipment, available on a fee-for-service, just-in-time basis, so firms can easily scale up their space, engage with experts, and establish proof of concept. The state's broader strengths in agriculture–an $88 billion industry supporting over 350,000 jobs–are highly relevant to the cluster.
Each year from 2010 to 2014 approximately 11 new agtech companies were founded in the region. In 2016, 39 North, a new 600-acre innovation district surrounding the Danforth Center, BRDG Park, Helix incubator, Yield Lab accelerator and Monsanto was launched and several infrastructure projects are underway. The successful Ag Innovation Showcase held annually at the Danforth Center, attracts entrepreneurs, venture capitalists, industry leaders and academics from around the world. The 186 early-stage companies that have been fortunate to present their ideas at the three-day conference have attracted more than $1 Billion in capital post showcase.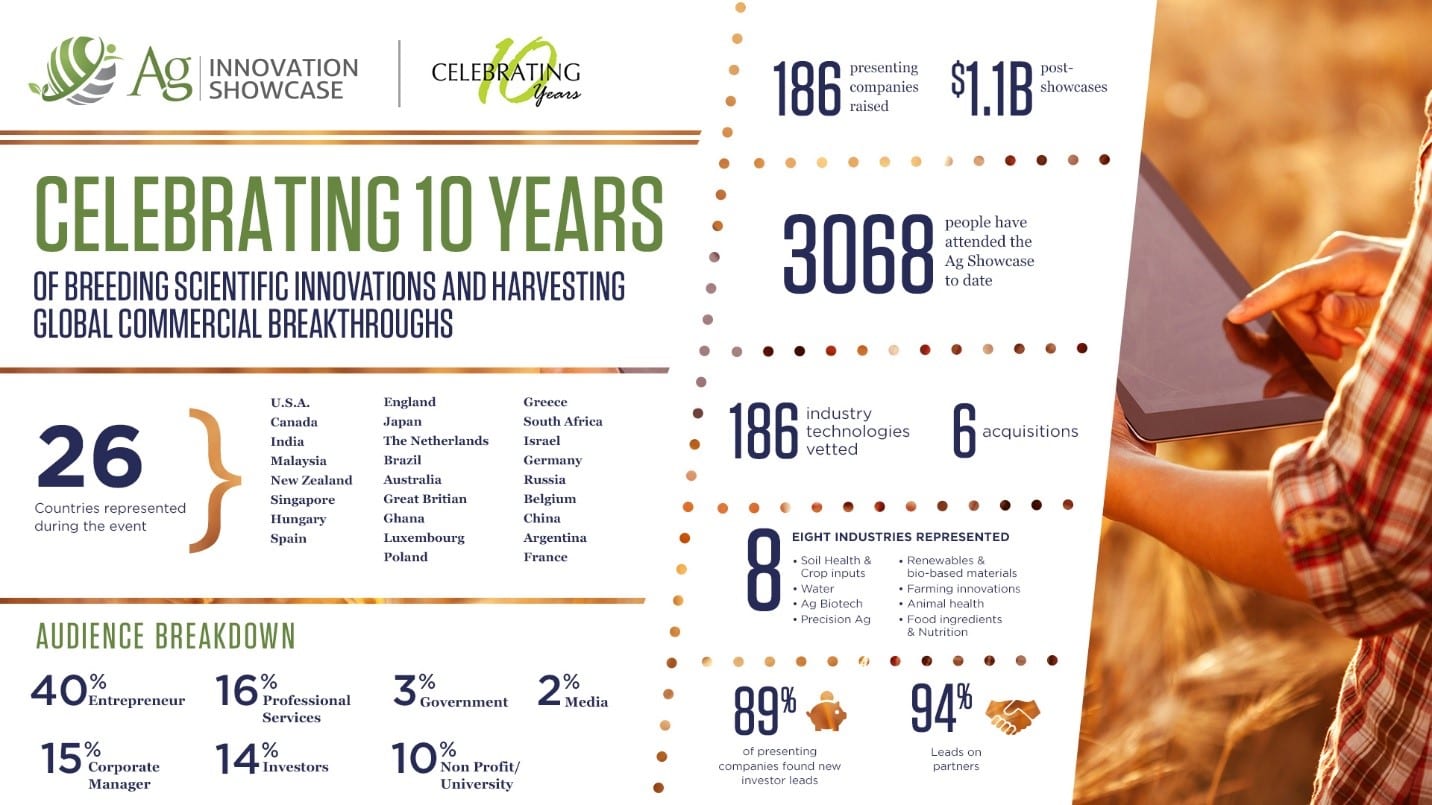 Creating a successful industry cluster can take decades to evolve, and requires investment and patience from community leaders, citizens and government and the payoff can often be a long way down the road.
"We are in the beginning of that payoff phase and I think it is incumbent upon us as community to double down and on the investment that was made 25 years ago - to be aggressive and grow this innovation cluster which is providing quality jobs and critical solutions to the global challenges facing humanity," Fiorello stated.
The report's significance is presented through this infographic.